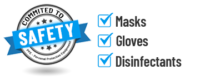 Our name says it all. We treat our patients with integrity because we believe you deserve the best dental care possible. With ongoing training and education in the latest dental technology and techniques, we're able to provide exceptional and lasting outcomes for our patients. We don't settle for less, and neither should you.
Customized Options
for Your Dental Needs
At Integrity Dental, formally Perfect Smile Dentistry, you'll find that Dr. Kapoor and Dr. Ravi are passionate about providing the finest dental care to patients in the Wellington area. We care deeply about your dental health, and helping you achieve a healthy, beautiful smile is our number one goal.
We take the time to get to know our patients and their families and believe that by building strong relationships, we can provide the best care.
Kind words From our patients
We value our patient's feedback. Here's what they have to say about Integrity Dental.
No waiting. Great waiting room, friendly staff and all issues addressed
Staff is very knowledgeable and has great ideas and suggestions to help and improve dental hygiene
It was great holiday fun. But it was difficult singing Christmas songs with the suction tube in my mouth.
Dr Ravi and staff are very caring & professional. I have been going to Integrity Dental for several years and I would highly recommend them.
Amazing team and beautiful and welcoming environment! Super excited I found this place.
Best experience ever! Thank you!⭐️
I have been going to this office since it was perfect smile smiles dentistry. When they left integrity dental took over. I'm not going to lie. I had my hesitation at first. But I gave integrity dental a chance and so far they have met and exceed my expectations. The whole staff from start to finish from entering the office is pleasant warm and kind. Not to mention they know you by your name. Well that could just be me going so often. All 5s and thumbs 👍 up...
Very professional and excellent service
Calixto Sanchez
1701493607
Had a very nice experience.. very professional and knowledgeable.. very satisfied..
Professional receptionist, kind and patient dental assistants, assuring and empathetic hygienists and a knowledgeable and thorough dentist. This is an A+ office from every aspect of the visit. The first dental office I have ever felt this way about.
Yvonne Wolliston
1700961745
The staff is very friendly. The hygienist and dentists are great. My visit today was pain free. They made sure I was comfortable. Very satisfied with the care I received
Nancy Easterling
1700870491
The doctors and the staff at integrity dental are competent and make sure that you're satisfied with their services. This Thanksgiving, I am grateful for finding such a wonderful dental facility.
Place was very comfortable, and staff was pleasant. They got me right in, and took care of me right away. Overall great experience. Would definitely recommend
Great doctor and staff. I have been going to this office for about 4 years and I totally recommend it!
Very professional, they do a great job!
I was actually taken in early today and it was appreciated.
Very professional and efficient staff. Does an excellent job explaining the process and listening to feedback throughout.
If I could give this practice 10 stars I would. Dr. Ravi is a stellar practitioner. She's thorough, takes her time to explain everything, and is very gentle. She's what everyone deserves in a dentist. The quality of care at this practice is top notch. Finally feel like I've found a home.
Vivian Fletcher
1699561845
Integrity Dental is very professional, clean but most of all understands their patients needs. I rarely praise a dentist but Dr Ravi and her staff truly deserve it!
we take the safety of our team and patients' health seriously
Our infection control processes are made so that when you receive care, it's both safe and comfortable. We want to tell you about the infection control procedures we follow in our practice to keep patients and our team safe.
To set your mind at ease, below are a list of safety measures we have in place:
Our team wears masks, face shields and hair covers.
The PPE and disinfectants ensure that the office is kept clean at all times.
Everything is sanitized for each patient.
We have installed a HEPA air filter and AC air purifier as added protection.
We are monitoring our team on a daily basis, as well.
We conduct no contact temperature checks as part of our screening protocol.
12300 S. Shore Blvd., 208 Wellington, FL 33414