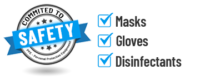 Our name says it all. We treat our patients with integrity because we believe you deserve the best dental care possible. With ongoing training and education in the latest dental technology and techniques, we're able to provide exceptional and lasting outcomes for our patients. We don't settle for less, and neither should you.
Customized Options
for Your Dental Needs
At Integrity Dental, formally Perfect Smile Dentistry, you'll find that Dr. Kapoor and Dr. Ravi are passionate about providing the finest dental care to patients in the Wellington area. We care deeply about your dental health, and helping you achieve a healthy, beautiful smile is our number one goal.
We take the time to get to know our patients and their families and believe that by building strong relationships, we can provide the best care.
Kind words From our patients
We value our patient's feedback. Here's what they have to say about Integrity Dental.
Great experience. Very professional. Took time to explain details about dental issues they are looking at and what can be done. Very good with kids.
Roxanne Obikwu
22:17 29 Nov 22
Integrity Dental was recommended by a friend and it was one of the best recommendations I have ever received. Wonder staff and Dr. Ravi has an amazing bedside manner. Very happy to go to this practice for my dental needs.
Jamie Klein
21:58 22 Nov 22
Wonderful first visit! Thank you!
The dental hygienist was so gentle during my teeth cleaning
Frank and Troy
16:15 20 Nov 22
⭐️⭐️⭐️⭐️⭐️
I can't say enough good things about this practice. Both doctors are great. The way they view their patients and tend to their community is above and beyond what you have ever experienced with any other practice. Personally I think this comes from their military background - they think like the private sector but work in a public economic system - and they have masterfully merged the intent and agendas you would traditionally only see in a government setting within their practice. They've made a number of comments over the years that support that. But when they went above and beyond to make my front teeth look better without even hitting me with a bill - I knew when the time came I would be back to have them do the real cosmetic work I truly needed from years of TMJ and grinding my front teeth. And when I did come back I found out that I had miraculously landed in the absolute best hands! I brought in a picture of myself at about 17 and they could see my teeth were missing a lot more volume then anyone could have imagined. From there, they gave me a smile that has since given me more confidence when I speak to people and in return has made all of my interactions so much sweeter. I was holding back smiles. And in key moments- I was missing my cue to build positive relationships. I was holding back so much my facial expressions made me look awkward and uncomfortable and people would ask me what's wrong and I didn't even realize what I was doing! It has been an absolute blessing to have found this practice. I have since moved, I made sure I had my teeth done before I left, and as I sit here and think about the intent with which they hold that practice I just want to say - I hope they do so well their agenda becomes a standard practice at other places as well!
Stark Hester
04:41 19 Nov 22
The entire Integrity Dental Team made my patient experience phenomenal!! My dental tech was personable, the Dentist knowledgeable and professional and my hygienist was ever so gentle!!! It is obvious the entire staff are valued employees.
Tinesha Morgan
22:37 17 Nov 22
Had the best cleaning experience ever.I highly recommend them.
Dag Hoegsveen
22:04 17 Nov 22
Dr Ravi and the entire Team are amazing. Without question I would highly recommend this Dental Office. 10/10 * First class all the way.
Michael Davies
00:28 17 Nov 22
The office is very clean, welcoming and the staff are nice and professional! Dr. Ravi is very nice, honest and professional. My husband and I have no regrets about choosing Integrity Dental! The dentist is patient, nice and personable. I really like and recommend Integrity Dental. I strongly recommend you choose Dr. Ravi for your dentist! She is patient and very kind. The office is clean and welcoming. My husband and I have no regrets about choosing Integrity Dental. We have received high, quality service every time we go for an appointment.11/5/22 - Dr. Ravi and her team are the best!🥰.11/15/22 - My experience was great as always! Amari made a big difference and kept me laughing. I've referred several coworkers already. You won't regret making the decision to make Integrity Dental your family dentistry! 😁
Francette Ciceron
22:00 15 Nov 22
john gerard
21:59 15 Nov 22
I love this place my whole family goes here
mayra minguez
21:59 14 Nov 22
The staff is very friendly. The hygienist and dentists are great.
Nancy Easterling
03:05 14 Nov 22
Excellent service. They were friendly and professional. Highly recommended!
Karla Fajardo
21:59 11 Nov 22
Best Dental office I have ever used and I have used many in my lifetime. Everyone in the office are professional and kind. Willing to work with customers and budget. I have my entire family using this office now. It doesn't matter which doctor you use. Both are kind professional and gentle. The entire office staff go above and beyond to make the experience enjoyable. Yes I said enjoyable at a dentist..UpdateThey came up with a treatment plan. After the two doctors got together and discussed the plan. They had me come in to have a consultation over the plan with both doctors. They came up with a plan that was cheaper and better for me. I have never had this happen at any other dental office. They truly are more concerned about the patient rather than dollars. They are owner operant truly care about the patient and not the corporate profit margins.
Murray Zacharia
01:11 11 Nov 22
For someone with horrible dental history, Dr. Ravi and her staff have honestly cured my dental anxiety. She is hands down THE BEST and SWEETEST doctor I have ever had the pleasure of seeing. I gladly drive 45mins just to see her. She accommodates me, knows I have bad anxiety and is extremely patient and gentle with me. The office staff is fun and super sweet. Almost like your own mini family. I absolutely adore this office and Dr. Ravi. She gave me my AMAZING smile with veneers that I cried with tears of joy afterwards. I get constant complements and they look so natural no one believes me that they're fake. Look no further, this IS the only dentist out there!
Stephanie Greenberg
22:43 07 Nov 22
Sharon Shankar
21:59 07 Nov 22
Dr. Ravi is amazing. Pain free & great bedside manner. Staff is friendly & professional. I highly recommend Intrgity Dental wholeheartedly!
Heyda Rodriguez
23:49 05 Nov 22
Lolita Cordin
21:14 04 Nov 22
Jean jacky Joseph
21:48 03 Nov 22
Francis Ortiz Ramos
03:57 02 Nov 22
we take the safety of our team and patients' health seriously
Our infection control processes are made so that when you receive care, it's both safe and comfortable. We want to tell you about the infection control procedures we follow in our practice to keep patients and our team safe.
To set your mind at ease, below are a list of safety measures we have in place:
Our team wears masks, face shields and hair covers.
The PPE and disinfectants ensure that the office is kept clean at all times.
Everything is sanitized for each patient.
We have installed a HEPA air filter and AC air purifier as added protection.
We are monitoring our team on a daily basis, as well.
We conduct no contact temperature checks as part of our screening protocol.
12300 S. Shore Blvd., 208 Wellington, FL 33414