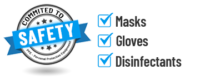 Our name says it all. We treat our patients with integrity because we believe you deserve the best dental care possible. With ongoing training and education in the latest dental technology and techniques, we're able to provide exceptional and lasting outcomes for our patients. We don't settle for less, and neither should you.
Customized Options
for Your Dental Needs
At Integrity Dental, formally Perfect Smile Dentistry, you'll find that Dr. Kapoor and Dr. Ravi are passionate about providing the finest dental care to patients in the Wellington area. We care deeply about your dental health, and helping you achieve a healthy, beautiful smile is our number one goal.
We take the time to get to know our patients and their families and believe that by building strong relationships, we can provide the best care.
Kind words From our patients
We value our patient's feedback. Here's what they have to say about Integrity Dental.
Easy to make appointments. They alert you beforehand what the copay and deductible is so there is no surprise when at the office. Lovely staff assistants and very capable/efficient DDS. I recommend them to everyone
Karen Campbell-Cohen
00:49 29 Mar 23
March 2023Fantastic experience for my routine. All around, this is a great doctors' office very well run! Is it possible to enjoy going to the dentist!? Well, yes it is 😃. Good people! 😊1-25-23Dr. Ravi and Tech Carlos made my experience of 'capping' off a root canal have a happy ending! Everyone in this office is kind and professional. Dr. Ravi did great work and wants patients completely satisfied. I have been going to this office for 3 years and every visit has been very satisfactory! I have complete confidence in them All.5-Star office! I saw Dr. Ravi today and was treated very kindly and professionally. This office instills confidence into the patient. Great experiences with Everyone!1-5-23Integrity Dental is a great experience each time. They handle my regular dental activities and also my pop-up problems. I have complete confidence in all of them. Dr. Kapoor is just great and his office support is fantastic.10-18I am so pleased with my Dentist, Dr. Kapoor, and his entire office Staff. The quality of their work is excellent and their manner and team effort are seamless. It is a pleasure to receive their care, counsel, and wishes of well-being for you as an individual. I have gone to them for over 2 years and they are excellent.Also, they have the latest techniques and treatments for your dental appearance and health. Really a great Dental Office for getting everything done!10-2022Getting my new personal mouth guard that I will keep for years. The end of me loosening my crowns and fillings! Dr. Kapoor is fantastic and very caring. He really stands by his work and runs a very professional office. Dr. Ravi is also great to have attending your dental needs.A shoutout to Tech Lillian who was very kind and knowledgeable. No pain. The Front Office as well. These people are great and there is a very good office atmosphere!Great service as usual from Integrity Dental. A shoutout to Jody who is fantastic on the 6-mos. cleanings. Very good! I am always pleased at Integrity. 😀I just got a cosmetic upgrade for myself at Integrity and I love it. The dentist and his assistant were very nice and did a perfect job. I did not have to get numbing and I really appreciated that. The front office staff are always so friendly and nice.6 Months…Integrity Dental always does a very thorough job and my hygenist is always personable, kind, but focused on doing a great job. Painless. The front desk and checkout staff are very pleasant and professional as well. 5-Star💐😃My 6 month visit was great. My hygienist dis a very good job, extreme thorough! Very pleasant and thoughtful. I and no cavities and got full xrays.😁This was my follow-up after a root canal to get the final filling. The dentist and assistant were very kind and professional. I enjoyed my time. What I really like is the rapport between the dentists and their support staff & assistants. There was respect and that created a relaxed atmosphere for the patients. I highly recommend this dental office.The dentist and hygienist were very thorough and excellent in work and manner. I highly recommend this dental office. They also live up to their name, Integrity. My daughter also uses them and has twice now been treated honestly and fairly. So honest in fact that she never has to have any dental work done. Just xrays, exams and cleanings!Six months later....Maria the hygenist is the most thorough I have ever had. She is thorough, gentle, and professional. 5-Stars. The receptionists were both very nice. The office is beautiful. Great dentist and very reasonable in price!
Maida Rodriguez
00:43 29 Mar 23
Positive experience. Great team.
Tonya Jackson
22:06 18 Mar 23
Me atendieron rápido, no tuve que esperar . Son muy atentos.
Olga Robles
20:55 18 Mar 23
Always a great experience. I actually love going to the dentist especially for the dental hygiene. My hygienist is professional and thorough. Come experience what great dentistry should be like all the time!
Dr. Kapoor and his team are great! From the reception to the assistants, just a really excellent dental practice. Thank you for taking good care of me.
Dustin Talvacchia
16:02 16 Mar 23
The professionals at Integrity Dental are world class! We have been under the care of the Integrity Dental Family for years! Have confidence that you will be cared for year after year! We are humbled and thank you all so much forOur dental care! Mangum Family!
Xanthie Mangum
22:42 15 Mar 23
I have been living in Florida for 30 years and have finally found my " forever dentist". Entire staff is professional and yet friendly. I have recommended them to my family.
Robert Perry
21:11 14 Mar 23
Had a wonderful visit with the dr. today to pick up night guard, she was very helpful in explaining the use and care of the guard and ensured the fit was comfortable. The visit though short was quite thorough and as always so very pleasant and professional. Love going to "Integrity Dental" such a wonderful staff!!!🤩🤩🤩
Elvis Miller
14:12 12 Mar 23
Very attentive and great professionals.
Plamen Pavlev
18:04 11 Mar 23
Great experience! They had me in the chair minutes after I arrived and got right to work on my fillings. Had me numbed up and done in record time. Found my new dentist home!
Bryce Sahlberg
22:31 10 Mar 23
The staff and my dental assistant was awesome, professional, very concerned and caring. I was in a lot of pain and the dental assistant was very caring, he made sure I was ok. The doctor was quick, he took care of my tooth quickly I didn't have to wait long. Now this is how all businesses should be, from the front desk to when I checked out, I HIGHLY RECOMMEND them. Everyone was awesome if I could give 10 stars I would.
SL Monroe Jr
01:13 10 Mar 23
Excellent service, cleaning and timely matter
Lorena Hernandez
16:03 05 Mar 23
Dr Ravi is amazing and great with her patience. She takes her time to ensure that you're comfortable and happy.
Maria-Lorena Santos
00:07 01 Mar 23
Professional receptionist, kind and patient dental assistants, assuring and empathetic hygienists and a knowledgeable and thorough dentist. This is an A+ office from every aspect of the visit. The first dental office I have ever felt this way about.
Yvonne Wolliston
22:01 28 Feb 23
Great staff, very comfortable place, everyone was polite, welcoming, and friendly. Highly recommend
Michael Dyalram
21:58 28 Feb 23
We recently had our first visit and were happily impressed! The staff were very friendly and went out of their way to make sure we were comfortable and happy! We are so glad we chose Integrity!
Lacy Garcia
22:06 27 Feb 23
Bright and cheerful office - got an intake appointment quickly and even got slotted into a cleaning the same day because of a cancelation. Had an appointment that had to get rescheduled, and they got me a new one a week later.
Jessica DeVera
18:26 25 Feb 23
My second time here and I love it!I haven't been to the dentist this often in my entire life!Make sure to ask for Jodi, she's the best.
Kevin Raymond
22:01 23 Feb 23
we take the safety of our team and patients' health seriously
Our infection control processes are made so that when you receive care, it's both safe and comfortable. We want to tell you about the infection control procedures we follow in our practice to keep patients and our team safe.
To set your mind at ease, below are a list of safety measures we have in place:
Our team wears masks, face shields and hair covers.
The PPE and disinfectants ensure that the office is kept clean at all times.
Everything is sanitized for each patient.
We have installed a HEPA air filter and AC air purifier as added protection.
We are monitoring our team on a daily basis, as well.
We conduct no contact temperature checks as part of our screening protocol.
12300 S. Shore Blvd., 208 Wellington, FL 33414